Long have I pined for a
Western Mountaineering Highlight
sleeping bag! Just check out these stats: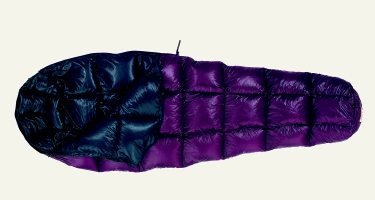 35 degree rating
Long sized (for a guy like me)
17 ounces!
3.5" of loft (double layer, it's a bag)
packs down to 6"x11" (3.5 liters, smaller than a jug of milk)
durable down can keep it's performance for 20+ years of use
unfortunately, this wonder of technology costs over $300!
Years ago, I learned to sleep with an open sleeping bag (quilt style) and find that much warmer and more comfortable. Quilts have never gone mainstream for backpacking, though there are a lot of advantages. A little company called
"Jacks R Better"
sells a sweet quilt called the "
Sierra Stealth
" for a similar weight and bulk. The difference is that the quilt has a poncho-style hole in the middle so that you can wear it around camp as a warm layer. Of course one will look like an idiot...
...but staying warm is kind of important! (sorry
AdventureAlan
, but you ain't no fashion plate! Nor am I!)
1.5" of loft (one layer... it's a quilt!) and the price isn't bad at $200. Also, I'm pretty sure that when JRB says it's an inch and a half thick, it's 1.5" after you've stuffed and used it for a couple years.
So here's the requirements for my MYOG version:
LOONG! I sleep on my side or stomach, so with toes pointing out, I can stretch well beyond six feet. Also, I pull the quilt over my head when it's cold, so I need some extra length there too.
Wide, I toss and turn a lot. A WM Highlight-sized bag just wouldn't be comfortable.
1.5" thick for an honest 35-40 degree rating. (the final product came out at 2+ inches)
DWR (Durable Water Replant) finish on the shell. Down doesn't like to get wet, but today's fabric coatings are amazingly more effective than just a few years ago. I live out west, and frankly, I don't give any worry to keeping my down dry. Drying things out is easy out here.
Less than 18 ounces (in the stuff sack)

my final weight was 17.85 oz

Less than $100 to make

My final price was $75.85 plus shipping. I love coming in 25% under budget!
I could have spent more and used lighter weight fabric from Thru-Hiker.com

Simple to make: this is a "Sewn-through" down quilt, much like the two examples mentioned above. This simplifies construction considerably. Final construction time: 5 hours.
All materials are available from
BackwoodsDayDreamer.com
Next Post: the free instructions!